NUVIA wins prestigious health and safety awards
NUVIA has been selected by RoSPA as the 2019 winner of the Sir George Earle Trophy; in addition to winning the Engineering Services Sector Award for an impressive fifth time.
Posted the 20/06/2019
Nuvia United Kingdom
This is a fantastic achievement and a clear acknowledgement of NUVIA's commitment to health and safety. It reflects NUVIA's consistent high performance in health and safety management, continuous improvement, and innovation.
This award also builds on NUVIA's strong focus on consultation and engagement, with the workforce as being key to achieving positive outcomes.
In addition, NUVIA's commitment to succession planning and the future of the profession was also identified as outstanding by the awards adjudication panel judges.
Launched in 1956, the Sir George Earle Trophy is the pinnacle of the RoSPA Awards scheme. This prestigious trophy is internationally recognised as the premier performance award for occupational health and safety. The awards adjudication panel judges look for entries with innovative approach, and unique elements that give rise to 'health and safety pride'.
Errol Taylor, Chief Executive, RoSPA, said: "RoSPA's vision is of life, free from serious accidental injury, and we look to our award winners to help us achieve this goal, and to ensure their employees go home to their families, safe and well, at the end of each working day. NUVIA is the embodiment of this vision, and an exemplary winner of the Sir George Earle Trophy."
Keith Collett, CEO, NUVIA UK, said: "This award is for everyone at NUVIA; our staff, our contractors and our supply chain. It shows that the actions and attitudes of all our people towards safety, health and environment have created the kind of culture we first talked about a decade ago. It shows that our focus on workforce involvement, developing talent from within and an effective leadership have given the results we hoped for."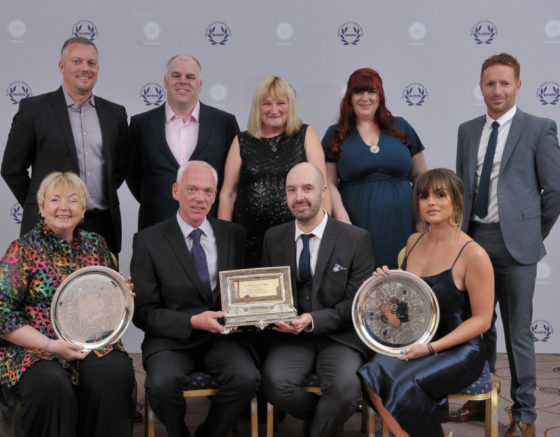 NUVIA staff pictured with both the Sir George Earle Trophy and the Engineering Services Sector Award.